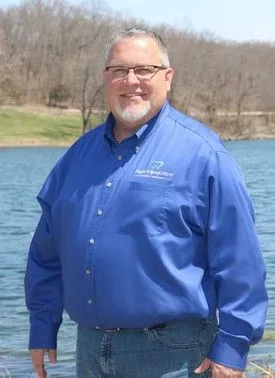 Douglas A. Wyckoff, DDS, PC
Dr. Douglas A. Wyckoff, D.D.S., has been in general dentistry private practice since 1992 in Cameron, Missouri. He and his wife Melinda have two sons, Daniel Schmitz and Tryston Wyckoff. Dr. Wyckoff has been in private dental practice since 1992. He was selected as one of nine students into the first six-year dental program in 1986. He has taken an active role not only in his community and church but also with his dental organizations.

He has served on several boards including the Administrative Council (as chair) for the Cameron United Methodist Church, Cameron R-I School Board (currently President). He has been recognized on the state and national levels as the leading new dental leader. His peers have nominated and accepted him into the American College and International College of Dentists. Both organizations select fewer than 3% of dentists to be a part of them. Requirements to enter are based on contribution to the profession, ethical practice, and participation in their community.

He was appointed by Governor Matt Blunt to serve on the Northwest Missouri State University Board of Regents in 2008 and served until early 2013.
Education
Lathrop High School 1983-1986
University of Missouri-Kansas City School of Dentistry 1986-1992
(First Recognized Accredited Six-Year Dental Class) Earned BA in Biology and DDS Degrees

Dental Organizations/Awards
Delegate/Alternate Delegate for MDA several times over past years

ADAAlternate Delegate 2002-2003

MDA Committee on the New Dentist 1994-2000 (Chair 1997-2000)

Northwest Missouri Dental Society President 1996-97

American College of Dentists 2000-Present

International College of Dentists 2008-Present

MDA New Dental Leader Award 2000-State

ADANew Dental Leader /Golden Apple 2000-National

ADACommittee on the New Dentist 2000-2004

ADACouncil on Membership Ex Officio 2003
ADACouncil on Annual Sessions Ex Officio 2004
UMKCSchoolof Dentistry Young Alumnus 2002'
MDA Editor 2018
MDA Board of Trustees 2004-2010

MDA President-Elect 2008

MDA President 2008-09

MDA Dentist of the Year 2008

MDA Education Committee

Missouri Dental Insurance Services Board 1998-2010 (President 2006-09)

MDI Leadership Program 2006

CameronRegional Medical CenterStaff 1993-2005
UMKC Rinehart Philanthropy Medallion (awarded 2018)
Serving on the UMKC School of Dentistry Alumni Board as 3rd Vice President(2018)

Community Organizations
Member Cameron United Methodist Church
Chair - Administrative Council 2006,2012,2013

Finance Committee

Youth Leader grades 7-12 2005-2006

Lathrop Masonic Lodge #506
Scottish Rite of St. Joseph
Moila Shrine of St. Joseph

Cameron Chamber of Commerce
Board Member 1994-99

President 1998-1999
Cameron Zoning Board Member 2 years

Cameron Board of Adjustments 3 years
Cameron R-1 School Board 2006-2018 (President 2010-2016)

Northwest Missouri State University Board of Regents 2008-2013
Professional Lectures
While on the American Dental Association's Committee on the New Dentist, Dr. Wyckoff presented the Transitions and Student Debt Lectures to the six dental schools in the 6th District (Missouri, Kentucky, Tennessee and West Virginia). These were presented at least every other year at each of the schools.